Sarah in the HD 47 Community: Mustang High School Key Club Fundraiser
We had so much fun at the Mustang High School Key Club Fundraiser at Orange Leaf (Mustang) yesterday evening. Fun was had by all, playing games and enjoying cool treats! A special shout out also goes to Trena Rogers, MHS Science teacher. It's always fantastic to make new friends in our HD 47 community!
Key Club played such an important role in my life as a high school student, providing me with the opportunity to learn about service in my community, the rewards of volunteerism, and develop life long leadership skills.
I'm happy to support a similar experience for these young people. I appreciate the opportunity to meet each of you!
Sincerely,
Sarah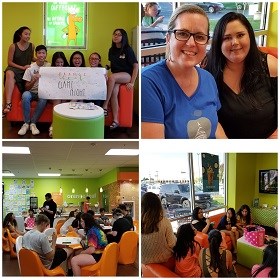 Mustang High School Key Club Fundraiser